Sat 28 Feb 2009
Sometimes the product you get is all about the technique that you use.
All of the work and time in weaving goes into warping the loom. It takes no time at all to make the piece, once everything is set up. I had an extra yard or so of warp left after my practice piece, and I didn't want to waste it. So, we got a skein of Manos silk-merino (one of only two yarns in the shop that looked like it would match the warp!), and I set to work.
Two hours produced this:

See those selvedges? Muuuch better! No necking at all on this piece; I think I've got the tension thing now. My width only varied by about 1/8 inch across the entire length. That kind of makes me want to do a happy dance.
The finished piece is about 30 inches long, which makes it too short for a scarf, but it will be good for something else, I'm sure. A bureau scarf? (I don't tend to use those, but you never know…) For now, it's just sitting by my knitting chair being pretty.
See how even the texture came out?

The Manos is a heavier yarn than the Trekking that I used in the sample. That makes this a weft-dominant piece, where the warp yarn barely shows up at all. It makes a thick, bumpy texture that I like a lot. The yarn was really packed in there tightly, so it didn't shrink much in length during wet finishing (the weaving equivalent of blocking, which is actually a lot closer to felting than it is like blocking). The width shrunk by about half an inch, but that's not much at all.
I like the way the short color repeats in the yarn make single stripes:
As I wove, I kept wondering how this yarn would have looked knit up. So, I saved a little bit at the end: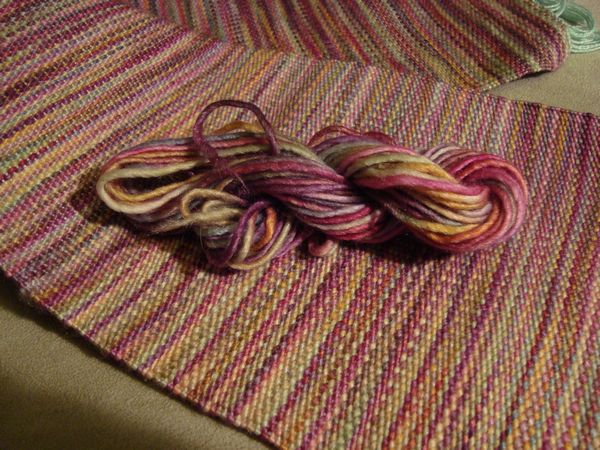 And knit a swatch (turned out to be exactly 25×25…you'd think I planned it or something):

And it's amazing what a difference the technique makes.
7 Responses to " It's all in how you look at it…. "