Thu 21 Apr 2011
It's been a bit crazy around here lately, and I have hardly had a chance to sit down and knit.
Except on the bus.
And it's amazing how two 20-minute blocks a day add up.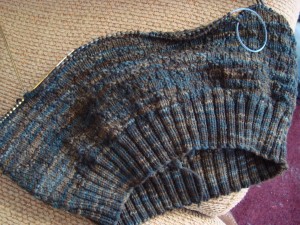 That's the beginning of a sweater with my yarn from Briar Rose fibers (Grandma's Blessing)Â  that I bought at Jefferson Sheep and Wool last year. It's been waiting patiently for me to have time to knit it, and I am so glad I've finally gotten around to it. I love, love, love this yarn.
I decided on a really basic knit-purl pattern to add some subtle texture under all the color shifts, and it's going to be an absolutely simple sweater. It's knitting up pretty quickly, considering that I had to go down to size 2 needles to get the fabric I wanted. A little at a time, and suddenly there's progress.
I'm going to keep that in mind when I close my computer and head off to start packing the office tonight. A little at a time…
(Oh, and on an unrelated note: I just noticed a few minutes ago that my comment notifications must have failed. I thought it had been quiet over here lately, but it turns out that the blog just hasn't been sending me my comments. So if you said something and I didn't get back to you, sorry!)
4 Responses to " Thank goodness for bus knitting "