Mon 9 Apr 2012
As we get closer and closer to the fiber festival, it's time to stop and take stock of the dyeing. I finally banded up all the braids last night, and then laid them all out to see the colors. The bottom row is polwarth, then falkland, then BFL, rambouillet, and shetland.
These are mostly semisolid colors, with just a few gradients and multi-color braids thrown in here and there. Next, I'll be turning my attention back to the real painted fibers with multiple colors, but first I wanted to get a sense of where things stood.
In general, the color distribution looks pretty good. Lots of blue-greens and purples (no surprise there), a few browns, a surprising number of orange. Not much in the true/dark reds, the true blues, or the bright greens and yellows, so those are places to maybe make some more. Also, a few real pinks couldn't hurt.
We also finished another project for the show this weekend. We've been looking and looking for ways of displaying items, and haven't found much that was a) attractive b) portable and c) relatively inexpensive. So, we made something.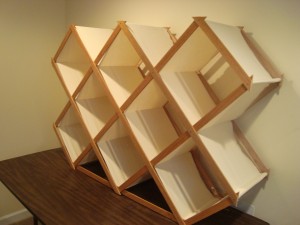 I bought some canvas at Joann's using one of their 50% off coupons. On Friday, I pulled out my trusty sewing machine and set to work. First, I cut the fabric into strips and sewed the strips together to make pockets. Then, Branden cut and assembled the frame over the weekend. We're both really pleased with how this came out. I am thinking that it may become a permanent addition to my fiber room after the show. (I'm also thinking I might need a few more…)
Of course, I like it even better when it's full of fiber.
And the best part?
It folds up when it's not in use, so it's really easy to slip into the car when it's time to go. We're getting close!